Blurring the boundaries: Designing place-based health systems
Design in Mental Health are a proud partner of the European Healthcare Design.  Alex- director of the Design in Mental Health Network and member of the Housing and Dementia Research Consortium has led the design of healthcare facilities in England, Spain and his native Italy, where collaboration and innovation are the key drivers.  His dedication to the highest design standards and sustainability is instrumental in defining the brief to translate spatial and operational requirements analysis into intelligent building forms. Alex sees design for mental health and social care as "lifelong learning", which continuously offers fresh opportunities for form to follow function while stimulating the senses.
With the theme of 'Blurring the boundaries: designing place-based health systems' the 2019 congress will explore how the global shift towards population- and place-based health systems are gaining momentum, facilitated by advances in science and technology.
Accessible health systems that provide timely, affordable, high-quality care are a cohesive, binding force. The future promises huge benefits but the intervening journey may test our political, economic and social fabric. Amid such upheaval, can our health systems meet both our current needs and future demands?
Providing an interdisciplinary global forum for researchers, practitioners and policy advisors, the 5th European Healthcare Design 2019 Congress & Exhibition will be held on 17–19 June, 2019 at the Royal College of Physicians in London, UK. Organised by Architects for Health and SALUS Global Knowledge Exchange, the Congress adopts a whole-system approach to redesigning international health systems, services and infrastructure through the exchange of knowledge, research and best practice.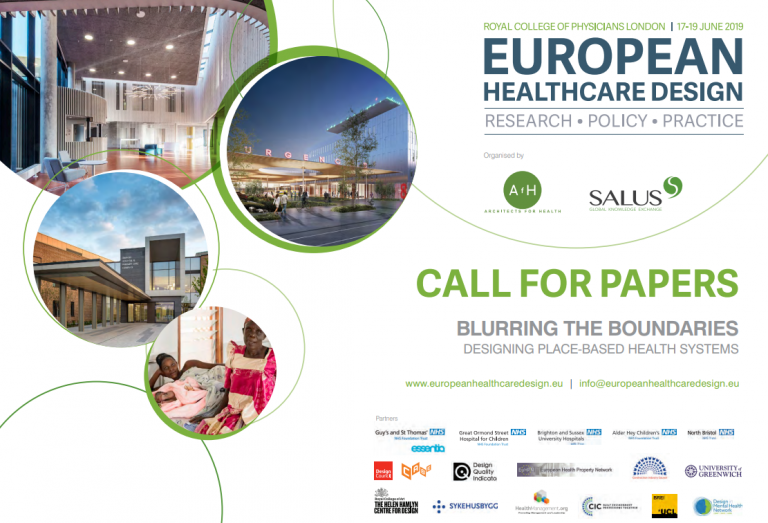 Abstracts for the presentation of papers, posters and workshops are invited on the plenary theme and six congress streams by 7 December 2018:
Congress streams 
Place-based health systems: improving access, quality and value
The intersection of medicine and architecture: redefining practice
Science, technology & innovation: empowering citizens & patients
Commercial design: innovation in healthcare investment & finance
Sustainable development: designing for people, place and planet
Art, design & technology: dignified & stimulating spaces for care
Click here to download the Call for Papers and submit your abstract via the online form at www.europeanhealthcaredesign.eu