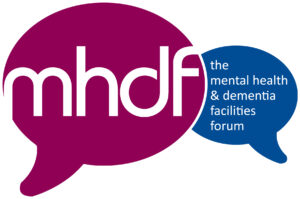 We're very pleased to have partnered with Stable Events for this year's mental health and dementia facilities forum being held on 17/18 November 2022. 
Philip Ross, DiMHN Chair, "We're delighted to create additional opportunities for our members to engage with NHS and architectural specifiers to learn how we can improve the quality of mental health environments together."
Toby Filby, Stable Events' managing director said, "We have enjoyed a close association with DiMHN for a number of years now and are delighted to formally announce DiMHN as our official event partner for mhdf. There is a lot of synergy between us rooted in our shared goal to progress innovation in the design of facilities that meet the needs of the most vulnerable in our society. Joining forces will allow us to better serve everyone focused on providing safe and nurturing environments across the spectrum of mental health & dementia. 
The mhdf forum is being held on 17/18th November 2022 at the De Vere Cotswold Water Park Hotel.  It is a unique event bringing together the stakeholders involved in the design, build, delivery and operation of facilities of this specialised sector including leading architects, contractors, NHS Foundation Trusts, private mental healthcare providers, and care home groups.
To find out more please visit www.mhdf-forum.co.uk